Today, I do not feel at my peak energy and my gut feelings tell me… eat this super-iron-rich food again: Red Beets!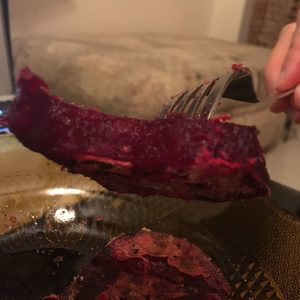 It's not the most fancy food, I admit. BUT this red root veggie really kicks my energy every time I manage to get it on my plate.
Although this dinner wasn't the most creative… and (even the pic can tell you that), the cells in my body truly LOVE it!
Here's what I made out of the two beets that were waiting for me since a few days in the fridge…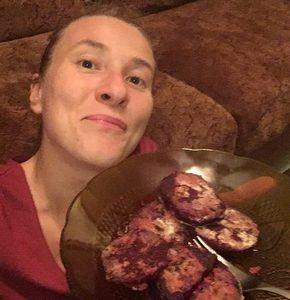 I boiled them in water – with the skin (to keep the minerals and other nutrients in the veggie) for around 12 minutes
 Then I peel them and
 Now roll them in gluten-free chickpea flour (chickpeas and all legumes contain healthy iron too!)
Add 1 tsp extra virgin coconut oil  and roast beet-burgers for a few minutes on each side